Bridge opposite arm-leg reaches
Target : Abdominal exercises to burn fat, flatten your belly, and strengthen your core.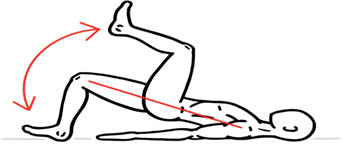 How to Perform
Lie face up with your left knee bent, left foot flat on the floor, and right leg extended toward the ceiling. Reach toward the ceiling with your the left arm and keep your right arm down by your side.
Without moving your hips or shoulders, open your raised leg to the right and raised arm to the left. Now, concentrating on your abs, return your raised leg and arm to the center. Do 10–12 reps, then switch sides and repeat.
Teaser : Reduce fat near abs and lower
Target : The benefits of these exercises are increased strength and flexibility in your arms, legs, and core muscles, burns excess fat around all that region and better spinal articulation.
How to Perform
An advanced Pilates-inspired move. Lie on your back with knees bent to 90-degree angles and feet lifted. Tighten abs as you inhale, and lift arms up and back over head.
Exhale and swing arms forward, straightening legs so your body forms a V. If needed, put hands on the floor for support.
Roll down slowly, bending knees and bringing arms overhead. Do 15 reps.
Tips :
This move is also great for learning how to breathe correctly when engaging the abdominal muscles in order to get a very deep and full activation of the abdominal wall, and the 'up' position of the legs during the entire exercise greatly limits any action of the hip flexors.
Boat pose
Target : Abdominal exercises to burn fat, flatten your belly, and strengthen your core.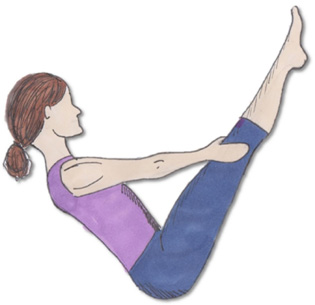 How to Perform
Sit with your feet on the floor, knees bent, hands beneath your knees for support. Keeping your chest lifted and shoulders back, engage your abs muscles and raise your lower legs until they are parallel to the floor (your knees should still be bent) and you are balancing on your sitting bones.
If this feels comfortable, begin to straighten your legs (stop if you feel any discomfort in your back) and stretch your arms forward. Hold for 5–15 breaths, then release. Repeat up to 5 times.
Tips :
Stretch legs up till you can strengthen it. Avoid to do when excess back pain.