Pilates Leg Pulls
Target : Squeeze your buttocks and tighten your abdominals to prevent sagging at the hips.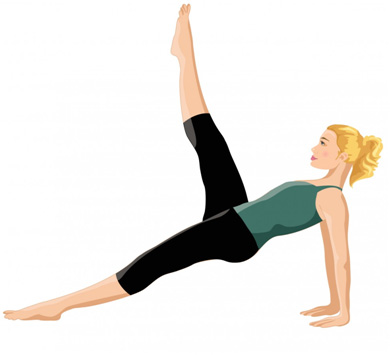 How to Perform
Push your heels into the ground as you squeeze your buttocks and lift your hips and torso upward into a reverse plank position.
Stabilize your shoulders by sliding them back and down. Look ahead.
Exhale as you lift one leg as high as you can while keeping a solid plank position.
Inhale as you lower your leg. Repeat two more times.
Repeat with the other leg and cont for 5 times.
Tips :
Avoid when having back pain. Stretch legs till its bearable or body remains in balance
Standing Side Kick
Target : Inner thighs, glutes, quadriceps, outer hips will get stretched out properly and its fat burning exercise too.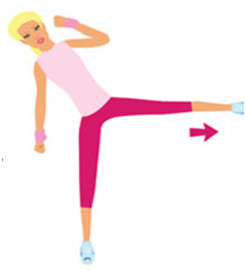 How to Perform
With feet hip-width apart and hands on hips, slowly extend right leg to the side at hip height in 3 full counts.
Be sure to keep inner thigh parallel to the floor.
Hold for 1 count, and then take 3 counts to lower to floor.
Do 15 times, and then switch sides.
Tips :
Stretch legs till legs are enough stretched from thighs . Body balance is very much important
Traveling Squat-Kick
Target : Thighs, glutes, quadriceps and hips are stretched perfectly to give best shape to lower body.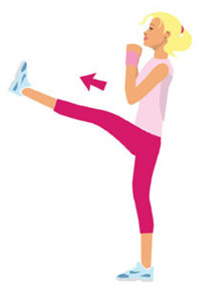 How to Perform
Stand with hands on hips and kick your right leg in an arc across the front of your body before bringing your foot to the floor in a squat.
Step your left foot next to the right and come to a stand.
Do 15 times, and then switch sides.
Tips :
Front kick should be stretched to maximum limits. Make sure not to lose balance of body